It is a strange wilderness into which this modern world of gaming can take us.

Anyone who has followed along with my previous writing and ranting has a pretty good understanding about my views on the industry shift from physical media to digital downloads. My written objections run the gamut, including giving up rights as an owner of an object, leasing an experience instead of paying for an item, and losing our history of gaming culture.

I cannot say my thoughts on these things have really changed, but there have been interesting developments. Just recently, I traded (gasp!) my physical copy of Battlefield 4 for the PS4. My reasoning; I got a very cheap deal on the digital copy that put me at a profit for trading in the physical disc, I didn't care for my time with the single player and therefore only intended on playing online which would require an internet connection anyway, and finally I knew I could pick up the disc sometime later when the price is much cheaper.

Sure, it's logical, but it also goes against my collector instinct and even smacks a bit of hypocrisy given my general views of supporting physical media as long as possible. I've played plenty of 'indie' digital only games, but this marks the first triple A big budget experience I've been playing as a digital download. While it's certainly not that big of a deal, like anything else I like to pay attention to how things change mental constructs, and this small difference has reinforced a process I've observed about the difference between digital and physical gaming.

It actually doesn't have anything to do with value, art, or collectability, but intentionality.
I prefer to be intentional in everything I do. That certainly does not mean I resist spontaneity, and my beloved would laugh uproariously if you suggested that I'm a type A, regimented personality. Rather, I prefer to make sure I'm thinking through something before agreeing, accepting, or doing. At least, as much as I am able given surrounding circumstances.

This intentionality extends to entertainment and video games. I primarily play games during three different opportunities; 1. Working out on our stationary bike, 2. Social gaming, generally on weekends, often on our 360 LAN and online with friends, and 3. Spontaneous moments where I have to wait on something, which is where portables usually come in handy.
Outside of these situations, I don't tend to play games much because the other things in life are too valuable to sacrifice the time.

Given how little time during the week we have for gaming, the last thing we want is to stare at a blank screen with a blank mind, or to load up a game for a moment only to decide a few minutes later that we aren't in the mood to play that. In the same way my beloved is quoted as 'knowing all about the moods with the foods' when it comes to satisfying a hunger craving with the perfect ingredients, if our gaming is not intentional then it becomes easy to waste away what little time we have. Oh, one day it may be co-op Tales of Xilia and then the next day Dirt 3, but identifying what would best serve where we are in the brain and heart makes all the difference when deciding how to spend our time.

Years ago in college I was introduced to the wonders of emulation. My gaming buddies and I could never afford a Neo Geo AES, and yet here on a friend's PC we suddenly had access to a library we had never played. The first few hours were great, amazing even. Despite not having a good joystick, we loaded up ROM after ROM and spent some time with games we were always curious about. However, after a few days we lost interest.

I can't speak for anyone else, but I know part of why gaming through emulation never caught on for me is because it equates to a big, ethereal list of games without much presence, no label in the shelf to remind me of its existence and no physical object for me to intentionally take ahold of and make decisions. It becomes easy to sample a dozen games and harder to stick with and play through one. Out of sight and out of mind, desiring to play that game becomes less a matter of intent and more a matter of fleeting accident. Occasionally happy accidents, to be sure, but too often a sugary glaze instead of a filling meal. Not the game's fault, but the delivery vehicle effects my mentality towards it, for better or worse.

With a loss of intentionality, a library of digital games on a hard drive becomes something I scroll through and pick something that I hope will meet me where am. For me, and I don't assume this is universal of course, but there is a function to having a shelf of games that forces me to intentionally complete the process of decision making by physically connecting what I want to spend time on with the device I want to use. It's everything from the solid *Thud-clink* of plastic in a slot, the *Errrrreeeeh* of an optical media drive loading, the introduction loading up that serves as a driveway to my destination.

I could sum up the above mentality by saying I'm that guy that won't go to see a movie in the theatre if I miss the previews, because that's just part of the experience. I'm also that guy that whines when a preview shows too much of the movie, but that's another article.



But it's not some nostalgic ritual that I'm searching for. (incidentally I lost part of that when games stopped shipping with instruction manuals. Again, another article.) Having to decide on a game and then physically setting it up is part of the process of me being intentional, purposeful, thoughtful about where I am and what I want to play. It's getting excited for that Christmas/Thanksgiving meal days or weeks before the aroma hits your senses. When searching through my XBLA and PSN games, I'm looking at a buffet where I too often gorge and eat too much of something I may not have really enjoyed as much as I wanted.

Of course I can be intentional about digital release games; I'm loading up Battlefield 4 all the time. But I have historically noticed that I struggle with picking up and staying with a game that takes up no more space than data on a drive.

Delivery avenues like Steam and PlayStation Plus provide gamers with huge libraries overnight. I know I come across as an old fogy for saying it, but at least for me, it feels more like a bunch of games to 'get through' rather than intentional experiences to savor.

Maybe I'll pick up another Battlefield 4 disc sooner rather than later. It may seem silly in a financial perspective, but learning is not cheap, so says any honest college guidance counselor. If I'm not receiving the lessons gaming teaches me about myself, I'm probably making bad investments in both money and time.




Black Friday.

Some may say it is a real-life MMO with little to no loot worth the exhaustive, sometimes violent effort it requires. YouTube is rife with videos of stores full of belligerent behavior on display, from pushing to outright fistfights over simple material items. Stories of injuries from trampling up to and including death proliferate the media, and this year the deals ratcheted back even further until Thanksgiving dinnertime itself is no longer safe. It's no exaggeration to say more civility has been seen over life-saving yet inadequate supply drops to the hurricane-devastated Philippines than the riot-like behavior Black Friday can cause over mostly-luxury items.

Aside from online sales that disappear in seconds, many gamers don't dare brave the masses during the biggest consumer holiday. And pretty much no one I talk to wants to actually work in the midst of this retail nightmare. In fact, in the fifteen years or so I've worked in various sections of retail, I don't recall anyone else who looked forward to working that fateful day every year.

But let's put that thought on hold for a moment and take our thoughts into a decidedly different territory.

Say you're working at a Mom-and-Pop retro video game store. An elderly lady walks in, and the I-hope-I-don't-accidently-buy-another-Edsel look on her face is evident. (To you whippersnappers, replace 'Edsel" with 'Tiger Game.com'.) Before you even approach her, she eyes you with an almost helpless expression. Twenty minutes later she's walking out with an NES and a stack of games for her seven year old grandson, a PS3 and Madden for her Steelers-nut son-in-law, and a DS Lite and Brain Age for herself so she can learn new curses over the word 'blue'.

Next is that forty-something role-playing game lady who only shows up every two or three weeks and picks your brain about another game she can 100%. She's scared she's going to relapse into WoW again and desperately needs your help finding a game she hasn't played through twice already, and every Final Fantasy, Dragon Quest, Suikoden, and even Wild Arms are crossed off her list. So the next fifteen minutes are spent scanning every shelf in the store to a bunch of 'beat that already' and 'hated the battle system'. Then comes the inevitable half-hour conversation about how Final Fantasy VI was better than VII and how IV was so great until it was redone to death. You finally convince her to splurge on a Genesis and Phantasy Star II, II, and IV, knowing she'll be back next month extolling the virtues of Phantasy Star IV while griping about slogging through III, which she of course finished anyway. You know next she'll want help tracking down a Master System and the first game in the series.

These type of scenarios are why many of us dream of working or even owning (go Crabby!) a video game store. If we have to work, and most all of us do, wouldn't it be great spending that time sharing our passion about gaming?
Even Gamestop, known for its pawn-shop attitudes and corporate shenanigans, is the source of many conversations about which is the best Bioshock game (bonus points if you said System Shock 2) or how anyone that says the Wii is a worthless console never played Muramasa and Boom Blox.

Working in gaming retail on Black Friday is the equivalent of speed-running these scenarios back to back. It's quite the rush; a non-stop barrage of folks with gaming and gifting desires. Despite not having the time to address every situation as I'd like, there are few opportunities to help so many gaming-minded folks in such a short time. Going in with a mind-frame to help out makes all the difference when the stress kicks in. An amazing amount of negativity can be dispelled in these powder-keg environments with a little humor and genuine thoughtfulness, for both consumer and fellow staff. Some problems can and will arise, but that's yet another opportunity to defuse the tension before it gets worse. Most of the problems tend to arise from the thoughtless, mob-like behavior that a few friendly conversations often dissolve. If all else fails, simply taking a step back and internally laughing at the absurdity of it all can greatly assist in re-approaching everything without getting dragged down. No matter how crazy it all gets, being vigilant on one's mental state going in is the key to not just surviving, but being in control and even enjoying such times.

If you're working in retail on any Black Friday, I recommend setting aside a good hour beforehand for buying a huge bag of clearance Halloween candy and your caffeine of preference, playing a few rounds of Katamari Damacy or your preferred peppy and upbeat mood-lightener, and pick a favorite gaming experience your store sells that becomes your mission to recommend to as many people as possible. When Shadow of the Colossus was largely unknown, I made it my personal quest that year to hock it to everyone. ("Here's your Gamecube. Great system that would be better if it could play Shadow of the Colossus. What? You've never heard of it? It's this beautiful game where...")

If you don't work in retail and are a gamer braving the chaos of doorbusters and midnight openings, please consider the same suggestions. We gamers still find ourselves fighting against stereotypes and stigmas of being antisocial, basement-dwelling, entitled losers who are the exact personalities that make Black Friday a byword. In the same way the charity of Child's Play gives a legitimacy to philanthropic video game players, in Black Friday we have a perfect chance to give gamers and gaming culture a much needed positive face. There is perhaps no greater opportunity in the year to prove the naysayers wrong and make a good name for ourselves and gamers in general.


The holidays are a time for getting together with family and friends and for taking pleasure in some quality time together. What better way to share holiday memories with them than to enjoy the exciting arcade-style titles featured in this month's Modern and Retro Playthroughs?

This month, the RFGen Retro Community Playthrough takes it to the streets with the classic beat 'em up series, Streets of Rage, for the Sega Genesis. You wanted it, and you got it! We will be playing the entire series, which includes Streets of Rage, Streets of Rage 2, and Streets of Rage 3. Achievements will include a weekly high score contest for each game, an overall total high score contest for the month, and completion/team completion achievements, among others.

Our Modern Community Playthrough takes us from the Streets of Rage to the streets of some anonymous city which is filled with Pizza Huts and the sweet sounds of Bad Religion and The Offspring. Let's get ready to make some crazy money in Crazy Taxi! This playthrough will include weekly crazy box achievements as well as overall high score challenges spanning the entire month!

So crack those knuckes and stretch those fingers because it's time to kick some a#% and bank some fare!

Link to Retro Community Playthrough thread: http://www.rfgeneration.c...x.php?topic=13339.new#new

Link to Modern Community Playthrough thread: http://www.rfgeneration.c...m/index.php?topic=13338.0


By the time this is posted, the Xbox One will be out and the launch games will be available for the general public. While I do not intend on picking up a system until something exclusive I want is out (Halo, Gears of War, Panzer Dragoon Saga HD, Phantom Brave Zero, Journey to Silius II: Judgment Day, etc.) I still enjoy reading all about the new system and launch games.

So far, while I'm sure I'd play Killer Instinct and Panzer Drago-... um, Crimson Dragon, no exclusives have me regretting my initial PS4 preference. Although in fairness, Resogun is the only Sony exclusive I'm sold on for now or the announced future. The launch lineup for both systems seem to hold few surprises in terms of releases or review scores. However, after reading a few write-ups on Ryse: Son of Rome I was immediately inspired to write about the relationship between what a game provides, what it is expected to provide, and how it is reviewed in our modern era.

I'd first like to note that after seeing the gameplay of Ryse demoed, I had little desire to play it. It wasn't about graphics, setting, or motion controls. As I watched, I could appreciate what this game was offering, and I simply had no interest in it. I've enjoyed melee combat games, historical narrative games, and even 'quick time event' gameplay. But watching Ryse, I just didn't think the game was for me, no matter how well designed or produced. I've felt the same way about the majority of sports titles, realistic racing games like Forza and Gran Turismo, and even critical successes like Grand Auto IV and V. Are they good games? I'm sure they mostly are, even if they are not for me. In fact I still pick many of them up, just to tinker and give them a chance, or more likely to let friends and family play them.

It was Kotaku's review that got me thinking.
http://kotaku.com/ryse-so...-kotaku-review-1468780085

Every other review I read commented on how nice the game looks and how well it runs, and yet how shallow, boring, short, and repetitive the game is. Kotaku's Stephen Totilo wrote something different; he genuinely enjoyed the experience. Interestingly, he didn't argue with the critique leveled against it. But in a true display of the subjective nature of boredom and entertainment, Totilo not only had fun with the game (while admitting the gruesome in-game actions were disturbing), but he referenced it as an example of how the new generation of hardware could be used to heighten current gameplay experiences. His last statement in the review sums up his thoughts:

"I'd like to think that Ryse is an example of the kind of fresh re-thinking we'll experience on the new generation of consoles. Why not move the camera in? Why not set the game in ancient Rome? Why not let players yell at archers to lob in some support? Actually, no, never do that last one again. Ryse arrives with low expectations and demonstrates that looks can make a difference in gameplay. That's a next-gen upgrade I can enjoy."

Totilo didn't argue about the game's length. He didn't counter that the game was more complicated than other reviewers gave it credit for. He didn't ignore what other critics faulted. He simply seemed to take it for what it was and enjoy the experience.

I thought about this while playing one of the best reviewed games on the two new systems, Need For Speed: Rivals. Other than Resogun, it's what I've enjoyed playing the most. Yet one of the reasons I like playing it so much is that it knows what it is and what to focus upon; cops and high-speed getaways, with a heavy dose of Criterion's 'Battle Racing.' Oh, there's time trials and point-to-point standard racing, but the Alldrive connectivity and entire game design wraps around the concept that a cops vs. racers chase can, and does, spontaneously happen at any moment. It's pretty much all there is to the game.

No extra modes. No Rally racing, drifting mini-games, or a little guy jumping out and running around. In fact, the biggest criticism I've read about it is that it does pretty much the one thing, and that's mostly it, and so it will get repetitive.

And I just have a blast with it! Here's a game that knows what it is, and refines it to the expense of everything else. It knows what it is, what it does, and it does it best. It matches my current interest and I have so much fun with it. It is to me, at the moment, what it sounds like Ryse is to Totilo. Both of us will get our fill and move on to other games, and that's fine. No problem there.

Let's use the 'way-back-when' machine for a different example. I played an uncomfortable amount of Hunt for Red October on the NES back in my youth. I didn't think it was a great game even then, but I enjoyed it and was determined to master that side-scrolling, pseudo-shooter submarine game. I practiced and practiced. I succeeded in memorizing level after level of enemy placement and weapon usage, dodging the many obstacles of enemy and landscape with that clunky grey tube sprite, until reaching the last level. And then out of nowhere, for the very last part of the game, it bizarrely changed into a run-and-gun platformer taking place inside the sub. With completely different play control, a little bearded guy had to shoot many, many more cooks than appeared in the movie while jumping to platforms and diffusing bomb after bomb after bomb after bomb. Nothing in the hours of mastering a completely different game prepared the player for the very last chapter, which forced the player to literally play a completely different game to complete it.

And it's not the only game to pull such a last minute out-of-character bait and switch. Lost Planet is a modern example. Sometimes such out-of-the-blue forced changes are peppered throughout a game, arguably for better (Halo: Reach's random Space Flight) or worse (Castle Crasher's random Volleyball and Alien Hominid's 'Simon' minigames.) When implemented as interesting, optional stuff to do (SNES's Legend of the Mystical Ninja had tons of random, fun diversions) that are not required for continued progression, such diversions can liven up a game and make it's universe feel more complete. And some games, such as the classics Rocket Knight Adventures and Mr. Bones, are more akin to a gaming potpourri of varied gameplay challenges instead of a singular gameplay experience. Most recently, the (IMHO) excellent Beyond: Two Souls wrapped it's entire game design around unpredictable gameplay experiences.

In other words, I'm not knocking variety and spicing up gameplay. But if a game is going to jettison the skillset a player has invested for progression, the transition should be necessary, smooth if narratively possible, and not a brick wall that easily makes a player lose interest. I never did finish Hunt for Red October. That last stage left a bad taste and I just didn't have a desire to play anymore. If the game was going to toss a surprise ending (which is fine) there should be some method of keeping the gameplay transition from being so jarring. I put so much time into it because I knew what I was playing, and the game (until the end) rewarded my investment. Ideally a gamer looks at a game, develops an idea on whether or not that game looks fun to them, and then accepts or turns down what the game is selling as an experience.

So, that brings us back to Ryse. I hope that every gamer that looks at the gameplay and thinks it would be fun does not get discouraged by bad reviews and folks telling them it's not worth it. It may not be the game for me, and many others from what I gather, but then the games I like can bore some folks to tears. (It's an unspoken house rule that I will not subject my Beloved to any more hours of staring at Final Fantasy Tactics.) I have no doubt that there are other gamers like Totilo who will play and enjoy Ryse, and I'm happy for them. If I tried to change everything that would make Ryse a 'fun' game for me, it very likely would no longer be what those individuals are looking for, and it wouldn't be an 'improved' game for it.

I like that Need For Speed Rivals doesn't bloat itself with gameplay that takes me out of what I want to play. If I want rally, I'll play the Dirt or RalliSport Challenge series. If I want a sim I'm play Gran Turismo or just fall asleep. (Kidding. I used to play them. 4 was my favorite.) If I want something less grounded, I'll play Wipeout XL/3/HD. I don't want a game that tries to stuff them all into one at the expense of some, but then I won't knock it if that game is fun for someone else.

In the end, as always, don't be bullied into another's opinions. If it looks fun, give it a shot. If not, let the next person make their own decision. There are too many games for too many different types of people to make silly assumptions about what will be fun for anyone, much less everyone.





The midnight launch was great! Everything went very smooth, and everyone seemed to have fun.

After getting home late, I plugged our shiny new box into our prepared space on the ol' entertainment center, and it started right up. The update was speedy and I tinkered a bit before crashing for the night/day.

So, here's your local Slackur's initial PS4 impressions:

-It's purdy.

-Speedy too, compared to the PS3's notoriously slow network downloading. So far everything seems to be as fast as the 360's downloads, so much improvement there.

-I wasn't originally sold on the install-as-you-play feature, as it felt gimmicky. But in reality it works so well that games were playable more quickly than most PS3 games; I'm officially a believer.

-I really like the UI, better than any Sony product thus far and leagues better than the 360's Metro.

-The controller also feels more natural and comfortable for me than any other Sony product thus far. Not quite as made-for-my-hands natural as the 360, but far and away more natural than any DualShock, PSP or Vita.

-Compared to the jetliner engine sounds of the 360 and PS3, this thing makes me forget it's even on.

-One of the niftiest features happened when we plugged in some decent headphones into the controller and suddenly the main sound system went mute. A quick adjustment allowed all the sound output through the headphone jack, and it sounded great!

-Another thing I assumed was too gimmicky to be useful was the remote play. Sure, the framerate suffered a little and the control responsiveness was off just a touch, but I was able to successfully play Battlefield 4 with the TV off and the kids in the same room, so it will likely come in handy more than I thought. And it makes the PS3/PSP remote play look positively broken.

Speaking of broken, much to no-one's surprise the PSNetwork has gone up and down with maintenance issues. I was able to update the system and grab Resogun without problems, but I had to wait awhile before I could grab the other online updates and games. Thankfully, with the improved download speeds I was able to get everything the next day without issue.

So, overall I have a pleasant report on the machine proper, but of course more importantly, how are the games?


Battlefield 4
Much improved graphically over the previous generation versions, it's the Battlefield I know and enjoy. Unfortunately the mode I bought it for, 64 player conquest, is the only feature that doesn't work. A quick Google proved it to be a universal problem, so hopefully it will be resolved very soon. In the meantime everything else about it is as good as I hoped.

Contrast
This one is quite nifty. The controls are too loose and fidgety, but the concept, art design and music really make it something interesting and worthwhile thus far. My Beloved has only played it a little (she likes Resogun better) but I'm looking forward to playing through it. I'm
particularly happy to see some nifty, more experimental games like this one considering how shooter-heavy the launch line up is.

DC Universe Online
I spent some time with the PS3 release years ago, and its come a long way since then. Another game I'm glad to see at launch, if just for variety and you can't beat the price. Probably won't put much time into it again but its very nice to see it as a free launch game.

Backlight Retribution
This one just plain has not worked since launch until over two days later. It looks to me like an average arena FPS. Can't say for sure since the developers apparently hate left-handed people and gave two entire pages of control customization but no southpaw thumb swap. So it'll likely end up in the digital dumpster.

Warframe
This one was released as a PC freemium also, and made it to the PS4 launch. Southpaw support means I got to spend some time in it. So far it's decent fun; a third person, four-player shooter/stabby randomized dungeon loot/level grinder. Less punch and panache than BF4 so I'll likely spend my time there, but this is definitely a type of game I can have fun with. Worth checking out more later.

Need For Speed: Rivals
A direct combination of Burnout Paradise and Need for Speed: Hot Pursuit. Paradise proved that while I thoroughly enjoyed every Burnout game through Revenge, even the Burnout formula didn't stave off the boring pace of open-world racers for me. Hot Pursuit on the other hand, was great fun and only fell out of rotation due to the complete lack of local LAN support. So Rivals is appropriately somewhere in between. It looks great, controls very well, and the weather effects are superb. Unfortunately it only runs at 30fps, a developer-noted compromise to achieve the 'Alldrive' constant online 'jump in/jump out MP' scalability. I'd much rather have had the better frame rate, but it still looks and plays very well. It's growing on me, but time will tell if it has more staying power than Paradise for my tastes.

Resogun
Ah, here it is. By far my favorite offering in the launch lineup, and even my Beloved enjoys playing it. A true spiritual successor to the Defender throne, Resogun has tight controls, a lucid yet rapid pace, refined but sophisticated game play balance, a nifty art design and style, and best of all it's a blast to pick up and play. Fun for a quick fix or for a several hour score challenge, Resogun is much like Geometry Wars and Tempest 2000 in that it can't quite sell a system itself, but fans of the genre are missing out on something special if they don't get a chance to play.

Overall I'm very happy with everything we picked up thus far. With all of the free and PS Plus content (free month trial and $10 PSN included!) not to mention our BF4 and NfS: Rivals pickups, I'd be set for gaming a very long time even if I didn't have a stupidly huge backlog.

I think it's worth noting that between online and disc based offerings, there are two dozen games at launch for the PS4. For all the criticism leveled at the games available, I have to say its not bad at all. If someone started out with a PS4 and PlayStation Plus, games like DCUO, Resogun, Contrast, and Warframe offer plenty of game play right out of the gate.

Considering Resogun was good enough to have folks waiting for the controller to get passed down, I'd say so far I'm pretty satisfied.





Next week, I'll be helping our store launch the PS4. It will be a long, long night. I'm looking forward to it! I enjoy midnight launches. Especially in reflection of all the negativity mentioned last week.

Dozens, often hundreds of people, all gathered around and excited for the same thing. I enjoy it for the same reason people like Comic-Cons or PAX: pretty much everyone is there because of a shared interest. (As well as the relatives/significant others easily spotted by their deer-in-headlights expression or apathetic gaze.) Sure, there are a few obnoxious jerks, same as any group of people, but for the most part folks at these events are fun to chat with and hang around. I've even met a few individuals that became lifelong friends at such events.

Even if I didn't work in the business (and by business, I mean, of course, the industry) I'd still go to midnight releases. In fact, I've been to many for personal pickups, and even my Beloved tags along when she can. We've braved everything from freezing rain to Wal-Mart line savagery in order to meet and hang out with other like-minded gamers. We've set up impromptu GBA Mario Kart LANs, Wireless Bomberman DS matches, and during the Halo 3 launch some dude in a huge pickup opened the tail-gate to two screens and a Halo 2 MP setup that kept the crowd entertained for hours. And you'd be surprised how even the stand-offish turn nice when we pick up a few cheap pizzas and share the love.

In the modern era of our industry (and by industry, of course, I mean the business) there's an added bonus to attending launch parties for those who play online. Often the circle of trusted friends to play with can be tough to expand. We sometimes get random friend invites from a really good game, but without any connection to said individual, real ties rarely form. By chatting with other gamers while waiting in line for a product launch, it's easy to get to know someone well enough to make an educated guess if this person would be fun to play games with online. And having an actual face attached to xXDeAthScReAmCuTiEXx and 7JakeLovesREM gives every sniper-shot and puzzle match a deeper relevance.

There is also a bit of history to be appreciated. Saying that I bought my first Playstation on a random Wednesday, two years after the systems came out, doesn't really stay in memory or have any significance. My Beloved and I waiting for several hours in line to get a launch Gamecube, while playing Super Mario Advance multiplayer with strangers (one of which still comes over to game) is a memory I'll forever cherish. Interestingly, it's one of my favorite Gamecube memories, and it happened before I opened the box!

Oh, and sometimes I actually stay awake after getting home from the launch so I can actually play whatever goofy thing we just bought.




Episode 18 discussion thread: http://www.rfgeneration.c...rum/index.php?topic=13298

Get the show at http://www.collectorcast.com
Follow the Collectorcast on Twitter: https://twitter.com/Collectorcast
Like us on Facebook: http://www.facebook.com/Collectorcast
On Stitcher (enter Promo Code RFGeneration): http://www.stitcher.com/RFGeneration
On iTunes: http://itunes.apple.com/u...collectorcast/id524246060
On YouTube: http://www.youtube.com/user/DukeTogo74

While the cat's away, the mice will play. Crabby has been very busy recently in getting his store, Game Quest, up and running. That has left Duke and Bil all alone to run wild and discuss a topic that would never make it past the Crabmaster, the amazing SEGA 32x. Join us as we delve deep into the market that created the first 32-bit SEGA console, its release, games, and our personal stories. Surely Crabby will be back soon to put a stop to the shenanigans, so enjoy the guilty pleasure while it lasts!

As usual, we also catch up on some fantastic grabs from the RF Generation forums. Make sure to stay tuned to the end of the show for an interview that the Crabmaster made for his local radio station all about his venture. It will have to provide your Canadian fix for this episode.

Show Notes
Retro Game Cave: http://www.retrogamecave.com/

Music: Knuckles Chaotix (32x)
7:15 Small Scores
2:24:29 32x Discussion
4:50:50 Game Quest Radio Feature
4:55:41 Outro


Hello again to the latest edition of RFG Thanks! It looks like the September RFG Thanks disappeared somewhere, as I know that singlebanana had it up for review at some point, so I apologize if anyone was missed for September.

Before we get to the stats, I wanted to pause for a moment. At this time in the year, many nations in the world have holidays honoring thanks, and I'd like to take a moment to personally thank our staff for their hard work throughout the year. It's also a good moment to point out that we need to update our Staff page.



Bildtstar & Sirgin: Thanks for all of your hard work on the PlayStation and GameCube databases, as well as helping to sort out our European submissions and adding a hefty amount of French and Dutch titles. You guys help keep the engine greased for the European side of our database, for which I'm thankful.

blcklblskt/Madir/Paully3433/OatBob/Tynstar/Izret101: Thanks for all of your help in contributing all year and keeping your respective consoles up to date and in order. For the reviewers, a BIG thanks for keeping the review queue low for most of the year. HUGE shoutout to Izret101 for covering for me while I was unexpectedly forced out, and Tynstar for his ENORMOUS contribution to the site this year with images covering the majority of 3 major US consoles.

raffa1985: Thanks for keeping the database up to date with the latest releases.

aeroc: You know why you're awesome. Keep it up.



ApolloBoy: Thanks for the effort throughout the site, and for a lot of the more obscure consoles and games.

bickman2k: Thanks for keeping the site up and running!

NES_Rules: The glue that holds our site together (and pays our bills). Hope you have better luck with the truck at some point.

Blogging/Podcast/Community Staff: Thanks for everything you guys do to keep our community entertained and informed. The site would be quite boring without guys.



If I've missed anyone else, I apologize, but your contributions have been a great help to the site this year, and every year.

Now for the stats...

Top 5 Total Submissions (Non-Staff):
thegreatska (369)
ericeskapade (144)
Raidou (75)
douglie007 (49)
BJoin79 (44)

Top 3 Total Submissions (Staff)
Shadow Kisuragi (490)
Bildtstar (478)
Tynstar (328)

Top 3 Total Approvals
Shadow Kisuragi (393)
Tynstar (228)
Paully3433 (209)

Other numbers:
Submissions for October 2013 (2778)
Total Image Submissions for 2013 (18865)
Total Game Additions for 2013 (4319)
Total Game Variations for 2013 (4785)
Total Hardware Additions for 2013 (308)
Total Hardware Variations for 2013 (248)
Total Submissions for 2013 (37688)

Let's see if we can push that number past 40,000 in November! Thanks again for all of your submissions and participation on the site, and keep it on Channel 3!






The time has come, once again, to be the Secret Santa for a randomly selected RFGen member.

Head on over to the Secret Santa thread for details and to sign up http://www.rfgeneration.c...m/index.php?topic=13257.0


Like everyone else picking up a new system on launch day this month, I've been keeping up on the news feeds for the new gaming/media/adware consoles. And since Battlefield 4 is a day-one pickup for my shiny new toy, naturally I've followed up on stories concerning it. Which has lead to reading about the minor blowup between blogs and threads concerning how, for both Call of Duty: Sequel (er, Ghosts) and Battlefield Again (um, 4) the XB1 natively outputs at 720p (upscaled to 1080p) whereas the PS4 natively outputs to 1080p for . Both target to run at 60 FPS. Also, according to the PC Master Race, with the right graphics card you can run them both at the same time at 8K with light beamed directly into your optic nerves so its cute that console players think anything without a mouse and keyboard is worth playing because Steam.

Sorry. A bit of vitriol must have spilled over from the forums I was reading and spilled onto my keyboard like the slime from Ghostbusters 2. No offense to PC gamers. It's not as if some console gamers say less goofy things. And the XB1/PS4 number game is a perfect example; it's no exaggeration to say that folks have changed (or confirmed) their next generation console purchase decision based off this technical data about COD/BF4.

I suppose on the surface it can make sense. The XB1 is at a $100 premium over the PS4. To read that it appears to run two of the premier, AAA production games less impressively than the cheaper competition is understandably frown-worthy. Especially if you're picking up Microsoft's Halo DVR instead of the Play-It-Safe 4. (Settle down, kids, I love you both.

)

However, the internet gives an unfortunate advantage most of us would never have otherwise; the ability to see both console versions, running side by side. In the real world, unless at a convention or PR event, we're not going to stare at each one and pick out how may grains of sand are on each picture, or if that power line appears a little more jagged on the left versus the right. Screen shots from our gaming magazines begat these comparisons decades ago, but we've moved from showing the technical prowess of an Intellivision vs. Atari 2600 to the point that we now read about counted pixels and imperceptible 2-3 frames per second.

While there can be a noticeable difference between upscaled 720p and native 1080p, in reality if we were to see one and then later the other, many people would not be able to distinguish much difference. (Well, since RFGeneration tends to cater to the OCD gamers, probably more of us here would notice than the average gamer.) Sure, there are differences. Would it truly keep us from enjoying the game on an 'inferior' version? Phrased another way, if an XBox One Battlefield 4 gamer never heard/read about these numbers, they probably wouldn't care and it certainly wouldn't keep them from enjoying the game on their system.

The relative power of both new consoles are close enough that we are not in a Atari versus Intellivision type of disparity. I think Nintendo was brilliant to stay out of this horsepower horserace; games on the Wii U are their own thing (many of which are great, IMHO) and the weakest games on it tend to be ports from other consoles.

It's a strange trait for most of us, that ignorance really can be bliss. When I first got Cruisin' USA for the N64, I enjoyed it for weeks. Then one day I off-handedly read a critical review of it in a magazine. It was thoroughly trounced as the reviewer nit-picked and complained about a dozen issues, none of which I had even noticed while playing. As I went back to the game, I couldn't 'unsee' what I now saw. Every criticism I read pointed itself out to me, and I just didn't have fun with it anymore. Where before I just took the game at face value and enjoyed it, now my eyes were searching for flaws both real and imagined.

For this reason I've become enormously careful about video game reviews. I certainly have no problem with a critic giving opinions and it is valuable for the technical merits or flaws to be discussed and pointed out. But assigning an 'entertainment value' in the form of a number or grade strikes me as strangely foreign to a new media many consider a form of artistic impression. It's not that I don't want to know things a critic finds 'wrong' with a game, especially if it is technical; it's that more and more I see an emphasis on obtuse nitpicking and general negativity instead of a passionate enjoyment of the hobby.

I want to know if a game is buggy or has a flawed save system, sure. And for those who own more than one system it's nice to know if there is a performance disparity for multiplatform releases. I have no issue with sites like Digital Foundry discussing the numbers and breakdowns of a game's performance or comparisons between systems. My issue comes from what is normally done with this data: the increasingly aggressive flame war that prevents people from the whole point. Most people play games to have fun. Yet to hear it from forums, and indeed overheard in game stores, apparently we are having the wrong kind of fun. Folks are belittled for enjoying or desiring to enjoy a game with some lesser numbers attached. It is as if we must have a certain kind of fun on a certain optimum setting, or we are messing up some arbitrary thing or we are judged as ignorant for liking some subpar experience.

However, after great (and continuing) mental effort, I have found that detaching these data points from my attention makes for a far more entertaining experience in gaming. I still go back and enjoy Starfox on SNES. That game's frame-rate runs like a ViewMaster with a lethargic child on the lever, but I can still see it with the mind's eye of my 15 year-old self and have lots of fun. The Dreamcast version of Unreal Tournament runs laughably bad compared to the PC version and is very trimmed down content-wise, yet the summer vacations my friends and I spent on it come rolling back every time I load it up.

The ability to overlook flaws works differently for each gamer, of course. Going back to Goldeneye for me is an exercise frustration, and it is largely due to the technical issues. (How on earth did I ever find my way around when the cavern wall is a single color with no definition!?) I never liked Resident Evil's original 'tank' controls, and after the last few games in the series, going back to the older games wasn't as fun as I had hoped.

And back in the now, no one wants to spend more on an XBox One for 'second best.'

(-PC gamers: "Third best!")
(-XB1/PS4 gamers: "Shut up! Nobody asked you!")

However, to rile antagonism over launch era multiplatform games comes across as being needlessly negative, especially when the parity requires side-by-side comparisons to tease out differences. Over the last generation I preferred the XBox 360, not for any 'superior' multiplatform games, but because of the franchises exclusive to that system. Ditto for every Nintendo platform released. The beginning of this console generation has me excited for several Wii U games. And because more of my online friends will have one, a PS4 is our next system.

One day I have no doubt XBox One will be in the queue because of some franchise exclusives that interest me. Our family picks up what we'd like to play for fun as opposed to an arbitrary corporate allegiance. I recommend the same thing at the gaming store I work at, yet I'm always overhearing about how someone is making some kind of wrong entertainment choice. And all across the web, gamers are actively making fun of and trashing other people's opinions.

Most of us are taught at a young age that entertainment at the expense of others is a form of bullying and should be avoided. No one realistically expects internet forums to 'behave,' but it would be preferable if gamers focused more on the positive elements of our industry instead of generating and perpetuating pointless negativity. Let's always keep in mind, these electronic doodads are here to entertain us and make life a little nicer; if we let them generate more negativity, I think we're missing the point.



---

Posted on Oct 26th 2013 at 10:56:18 AM by (

slackur

)

Posted under

Comfort Games

,

scary

,

stress

,

Etrian Odyssey

,

Contra III

,

Castlevania IV

,

Axelay

,

TMNT IV

,

Game of Thunder

,

Legend of Zelda

,

we spend t
It's the right season to talk about scary things, right?

So this week, my Beloved ended up in the hospital ER, and needless to say it was a difficult time. Second scariest time of my life thus far. Once we were home, safe, and returning to 'normal,' the brain and nerves didn't exactly get the message to calm down. One of the many wind-downs I've adopted over the years to cope with stress is, naturally, video games.

Certainly there are nostalgic games that many of us occasionally return to in order to relax and feel better. Despite growing up on mainly C64 and the NES, my teens were mostly spent with the SNES, and that's the 'comfort' game system to which I most often return.

Though its no longer annual (it once was), I still periodically go through Legend of Zelda: A Link to the Past, Contra III, Castlevania IV, TMNT IV: Turtles in Time, Axelay, Starfox, Gradius III, Super Mario World, and F-Zero. These and about a dozen others are comfort blankets, warm milk, a soothing Calgon for my mood.

Calgon? What, you don't remember this?

http://www.youtube.com/v/MVLzkTuVmrw&rel=0

Anyway.

I still return to those old favorites from time to time, though the pool has since expanded. In college it grew by way of Tempest 2000/X3, Unreal Tournament, and Soul Calibur. Once meeting and dating my beloved, de-stressing via gaming became an occasional co-op affair. Until then I was unaware it was possible to zone out and decompress so well with someone else; previously the purposeful isolationism was assumed to be a necessary part of the therapy, but somehow sharing the experience with an understanding partner helped in a fresh, new way.

My Beloved's 'comfort' game system is the Dreamcast, with a similar large library of perennials include the Dead or Alive series, Crazy Taxi, House of the Dead II, the You Don't Know Jack series, and the Fable series. (Note most of these can be two player.)

Incidentally, the first night I asked her out on a date (for the next night) and she said yes, for obvious reasons I could not sleep. I crashed on the couch and tried to speedrun through the NES Legend of Zelda. Funneling my nervous energy and tunneling my runaway thought train, my dexterity finally gave out around the seventh dungeon at around 4 a.m. I could finally sleep, and sleep I did, at least until a good friend of mine woke me up because he needed his bathtub, which I happened to be using in my unconscious state.

Fast forward several years later, and I'm sitting next to the same wonderful woman, this time in the hospital as she recovered from giving birth to our newborn. Three times over, each with complications. Three extended hospital stays, each with various stages of no sleep and nervous results. No Super Nintendo or Dreamcast here, a DS and the first two Etrian Odyssey games accompany me through long nights and restless days. Turn-based action means no problem for her IV tapped hand to hold one of mine. The slow, grindy pace fills the odd time lapses. The strategy, loadout customization and map creation give my ravenous mind some bones on which to gnaw. We leave several days later, exhausted, with another member of the family in tow and many, many hours logged on our portables.

For modern consoles, often the steady flow and rhythm of a balanced FPS like Unreal Tournament or Halo fits the mood. Other times the intensity and draining concentration of a polished shmup such as Gate of Thunder or Mars Matrix fits the bill. Any genre that requires fast reflexes can be useful for burning up excess nervous energy. But for me, nothing gives an automatic reflex of comfort like picking up that SNES controller. My friends, family, and of course my Faith pull me through difficult, even scary times. But it is a great blessing to have video games to help.




A few months back, a request was made to split out the Virtual Consoles for Wii, Wii U and 3DS. The change was made then, but the database was never filled out and properly split from the eShop.

In the past couple days, I've filled out the Nintendo 3DS Virtual Console (and Nintendo Wii U Virtual Console, I think) for North America. What impact does this have on you? Well, besides suddenly having games moved around in your collection, you may have suddenly lost a few items from your collection due to the entries being ambiguous in the Nintendo eShop - after all, PAC-MAN and Donkey Kong have multiple releases for 3DS alone for Game Boy and Nintendo NES.

Please check and update your collections accordingly. Also, in some of the old entries, there were Part #s filled out for some of the Ambassador titles. If anyone can tell me how these Part #s were obtained, or can fill out the entries, it would be greatly appreciated!

There may still be some shuffling around the eShop entries, but for the most part I believe the moves are done. I'll be entering the rest of the VC entries here within the next week, including Europe, Australia and Japan, so bear with me while this is completed.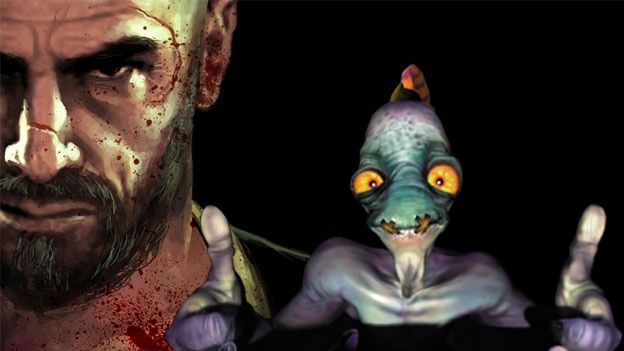 Wasn't October spooky? Did shivers run down your spins while searching Dracula's castles? Did danger lurk in the darkness of the shadows surrounding Seto?

Techwizard, singlebanana, GrayGhost81, and I hope those who took part in October's Playthroughs had loads of fun.

Currently, Dezorian is in the lead for Simon's Quest with 42 Achievement Points for RFGen's inaugural Retro Playthrough. Still some time left to overtake him and earn singlebanana's super secret, coveted achievement prize. Over in the Modern Playthrough thread all those who found the Silver Haired Girl and helped Seto make new friends along the way deserve a salute for their accomplishments.

If you thought things were ominous last month, November's games will surely provide some great thrills.

Open your eyes to a bitter truth because things are much more sinister than they seem. Join Abe and Max in their journeys to overcome worlds bent on their downfalls.

Oddworld: Abe's Odysee (PS1) tells the dark fantasy story of a gremlin-like creature named Abe who is an unsuspecting factory janitor who learns that the fate of his race lies in the sadistic hands of his sinister captors. Guide Abe in his escape to salvation during techwizard's inaugural Retro Community Playthrough.

Max Payne 3 (PS3, X360) is the broken New York cop's vengeful return to video games. Max is a broken man seeking respite in Brazil as a bodyguard for a high profile corporate figure. Unfortunately, trouble has a way of finding Max. Fight through the seedy underbelly of Brazil as a man who, with nothing left to live for, puts his life on the line to uphold his duty. Things will quickly spiral out of control in Modern Community Playthrough.


Retro Playthrough discussion thread

Modern Playthrough discussion thread





Drive swap was successful. Server stats seem to be much better as well.


So, we have some word from the web host. After my investigation, I found that one of our drives had some bad sectors. After unmounting it, the site seems to be running much better. Good news is that it was our backup drive, so none of the site data should be damaged. They will be replacing the drive, but in order to do so, they will need to power down our server to swap out the drive.

We have this planned for Wednesday during the day. Most of you will probably be at work or school, so there shouldn't be many that this will affect. We will be making solid backups ahead of time, just in case.



So, to sum it up, site is having planned downtime to resolve a hardware issue that should help our performance once it is resolved. It'll be down Wednesday during the day and hopefully back up by that night. I don't have a time as of right now, but we'll redirect somewhere.



Go ahead, kick it over to channel 4 for a little bit on Wednesday, but be sure to bring it back over to channel 3 soon!



Database Search
---
Site Statistics
---
Total Games:

82321

Total Hardware:

5574

Total Scans:

104678

Total Screenshots:

48736

[More Stats]
Our Friends
---
Updated Entries
---

(Nuon)
---

(GC)
---

(GC)
---

(PC)
---

(GB)
---

(PS2)
---

(PS2)
---

(PS2)
Updated Collections
---
New Forum Topics
---
New on the Blogs
---
Nielsen's Favorite Articles
---